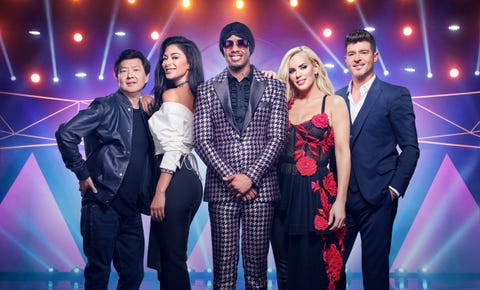 Nicole Scherzinger, Ken Jeong, Robin Thicke, and Jenny McCarthy-Wahlberg are all judges on the new reality television show. The premise is as surreal as it is bold: real celebrities suit up in costumes that completely disguise their identities. They perform a musical number against another obscured celebrity, and the ultimate loser after three rounds is unmasked.
The draw of the show is the guessing game. The rest is superfluous. There is no reason for judges. The one to one showdowns are just a fill-in format so the show can last as long as it does, and the audience is full of obviously paid extras.
The one liners are terrible, the guesses from judges don't help one bit, and the judges themselves are polarizing. Nick Cannon as host has, in two episodes, made two cringe-worthy references to his ex wife.
All this, and the show is a marvel. It still works! The judges scratch the itch for people to safely love to hate, all the while, asking "who is in that steampunk deer suit?" Audiences who watch live have the benefit of texting their votes in, and those who watch on hulu later can text their friends and share guesses.
In episode one, the unmasked singer was a sports star, and in episode two, a comedy movie legend. The talent seems to be diverse and has a good time.
This show is an experience. It shouldn't exist, it shouldn't work, and yet it is pure entertainment. Give it a watch on Fox. New Episodes Wednesday nights at 9pm Eastern.